I enjoy my fur kids and making funny faces... And the color brown.
Firstly, thank you so much for taking the time to visit our site. This was created as a way to keep my husband in the loop of our lives while he was deployed to Kuwait from May 2013 to May 2014. I'll be honest, I never thought that I would be one of those people that kisses their dog on the mouth. But I'm pretty much obsessed. These two little doods have changed my life for the better. They are constantly reminding me of what is important -- to be happy every day, be patient, and don't sweat the small stuff. Never underestimate the joy that the same meal twice a day for your entire life can bring

(okay... Maybeeee not that far)

. Since they've given so much to my quality of life, I do my best to return that. I seek out products and activities that are fulfilling for all of us. Blogs have allowed me to connect with other likeminded pet parents. I realize that "The Adventures of Griswold and Coop" may seem a little trite... But that's what we're on. Everyday is an adventure for them; sniffing out new things. You can expect approximately 1 to 2 posts a week (sometimes more -- follow us on social networks for daily updates) that include something related to pet parent lifestyle -- DIY, recipes, activities, photography (and phodography), or products that I like (or perhaps tried and don't like -- not trying to have anyone spend their hard-earned money on crap). If there's anything in particular you're interested in me writing about, have a question, or even a suggestion, please don't hesitate to contact me via any of the means to the top right. So go ahead, take some time to really smell the flowers... and then pee all over them.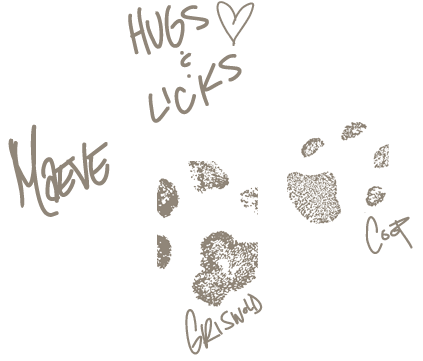 Check out our video preview!
(Sorry it's in crummy quality - It was shot on my phone. Song by Vampire Weekend.)
Button. Button. Who's got the button? Show us your linky love with a fancy animation or plain blog button.